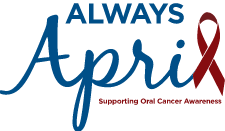 April is Oral Cancer Awareness Month. Muir Oral, Facial, & Dental Implant Surgery has joined Always April, a national partnership of oral surgery practices across the country, to bring oral cancer awareness into a year-round discussion. We hope to do this by building awareness around the importance of regular screenings and early detection.
The facts
Oral cancer kills about as many Americans as melanoma and twice as many as cervical cancer.
Oral cancer is rising in women, young people, and non-smokers.
At least 25% of oral cancer victims have no known risk factors.
Earlier detection (stages I and II) yields survivor rates up to 80%–90%.